One of the most important factors for anyone considering a move to VoIP for business phone service is the actual phones themselves. The good news is that there are plenty of phones in the marketplace now. The not-so-good news is that many businesses often overlook great options from lesser-known providers.
By sticking only to well known brands, many businesses end up paying a lot more for VoIP phones than they need to. While many people shopping for VoIP phones recognize names like Polycom, Cisco, and Panasonic, not nearly as many are familiar with Yealink.
Yealink VoIP phones offer users the same display features, supported lines, feature keys, headsets, audio, protocols, provisioning, security, power, and advanced features of other brands, but at a significantly lower price point.
There are different series of Yealink phones, and several models within each series. The following guide is intended to help you understand which Yealink phones are best suited for certain use cases within your organization.

Yealink T4 Series Phones
The T4 series is currently Yealink's most popular line of phones. The T4 series offers a wide range of models and features at very competitive prices.
T48S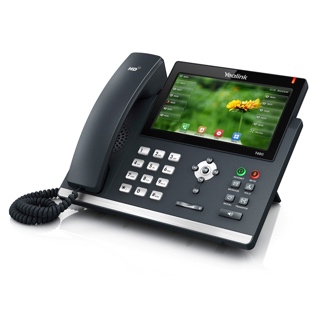 The T48G is the flagship of the T4 series. It's perfect for executives, corporate officers, and executive assistants or secretaries. It has a large seven-inch color touch screen, and supports up to six simultaneous calls.
T46G

The perfect phone for front desk and reception areas, the T46G supports Yealink's EXP40 expansion module (pictured). With the expansion module the T46G can view and switch between twenty lines simultaneously.
T42G

A great phone for staff and junior executives. This phone supports up to three simultaneous calls and has six dedicated soft keys.
T40

Yealink's T40 is a basic, but reliable, VoIP phone that's great for low-use and harsh environments. Manufacturing areas, shop floors, clean rooms, and labs are all good examples of where a T40 might come in handy.
CP920

The CP920 is dedicated conference phone that features 360 degree voice pickup within twenty feet. In also has built-in WiFi and Bluetooth for easy connection with your network.
Yealink T5 Series Phones
Yealink's newest phones are the T5 series. The T5 series features larger, higher resolution displays, built-in Bluetooth/WiFi, and Yealink's new "Acoustic Shield" technology.
T58A

The T58A is Yealink's T5 series flagship. This is an Android-powered VoIP phone perfect for executives and managers who need to collaborate with their teams. This phone also supports Yealink's add-on camera to enable video conferencing.
T54W

A great mid-range phone for managers and team leads. This phone has a 4.3-inch fully-adjustable color display and 10 line keys for managing multiple calls.
T53W

The T53W is a solid entry-level T5 series phone. This model is great for staff, common areas, and temps. The T53W can monitor 8 lines simultaneously. It has a monochrome graphical display.
Choosing The Right Phone
Finding the right balance of features and affordability in VoIP phones is a challenge that every organization faces when making the jump to VoIP phone service. Unless you have an unlimited budget, you'll likely need to make some trade-offs when selecting which phones to deploy.
At Fortis, we work closely with our clients through each phase of the VoIP conversion process to help inform and guide them to a successful deployment. Part of that process includes discussing your needs and requirements for your phone service. Based on that information, we can make informed recommendations about which phone models will work best for you.