The nature and type of technology office equipment needed by California small businesses have changed over the last several years.
At one time, most small businesses had a big sheet of plywood mounted to a wall in a closet or storage room. On top of the plywood were all sorts of phone equipment and wiring. Recently, the traditional phone system has been performing a disappearing act.
Many small companies used to need a 19″ rack to hold a half dozen or more servers. However, as business applications continue their shift to cloud-based offerings, many businesses only require a fraction of the number of servers they once had.
Partly because of this shift, the staple office equipment items that all small businesses need have also shifted. Home office needs have changed too. Here are ten types of equipment that small businesses now need.
1. An Internet Modem
The word "modem" is a misnomer, as it's a carryover from when a digital signal needed to be modulated to be sent over an analog phone line and then demodulated on the receiving end.
Nonetheless, the interface between an Internet Service Provider (ISP) and an office network is something that every business needs.
An internet modem can either be leased from an ISP or purchased online. There are pros and cons to each. It's more economical to buy instead of lease. However, ISPs will typically not offer support for a third-party device.
2. A Router
The router is a small but essential piece of office equipment that sits between an internet modem and the office network. Sometimes an internet modem can double as a router. However, a standalone router provides several benefits.
A router can assign an individual IP address to each device on a network. For functions such as shared printing and scanning, this is essential.
A router can be used to set up a virtual private network (VPN), making it possible for those with the right permissions to securely connect to network devices from home or while traveling.
For companies with a hosted VoIP phone system, a router can prioritize voice traffic over other traffic so that phone call audio is as clear as possible.
A router can also be a device that provides Wi-Fi access to a part or all of an office, depending on the size of the office.
Specialized routers, such as the one used with our CloudSure solution, allow for bonding the signals from two separate ISPs into one network. An increasing number of companies are doubling up on internet service providers to guarantee continuity of service.
3. A Network Switch
Routers typically have a limited number of physical ports. Fortunately, a router can be connected to a switch. Switches have as many as 48 ports. Switches can also be stacked. So, if you have, say 24 VoIP phones in your office, each one will need a port (although a VoIP phone and a computer can be daisy-chained to a single switch port).
4. An Uninterruptable Power Supply (UPS)
UPS manufacturers such as CyberPower offer a wide range of devices, ranging in price from a few hundred dollars to many thousands of dollars.
Since modems, routers, and switches are low-power devices, a low-end UPS can keep these running for a few hours during a power failure. Employees using charged-up laptops can continue to work for a time.
More expensive UPS devices can keep servers and network-powered VoIP phones running for hours.
5. VoIP Phones
We've referenced "VoIP" a couple of times. The word is an acronym for Voice over Internet Protocol. VoIP phones are plugged into a network switch rather than into a local PBX. With VoIP service, the traditional PBX functionality that lights up phones, controls what's in their displays, and makes them ring is replaced by PBX functionality that runs in the cloud.
With VoIP, two or three-digit internal extension dialing works like a traditional PBX.
Small businesses are moving to VoIP in large numbers. Unfortunately, some small companies commit to VoIP without first analyzing the internet, router, and switch speeds & configurations needed to properly support a hosted VoIP solution.
6. Desktop and Notebook Computers
Most small businesses once provided all employees with Microsoft Windows desktop or mini-tower boxes. These boxes were connected to a keyboard, mouse, and monitor.
While Windows still dominates, some small businesses have standardized on Macs. Other businesses have a mix of Windows and Mac machines, primarily due to the concept of BYOD — people who bring their own devices to work.
For companies that have made a deep commitment to Google Workspace or Microsoft's Office 365 and the cloud in general, some employees may need nothing more than a Chromebook or a Chromebox, which are inexpensive "browser-only" machines.
7. Headsets
Often connected to both VoIP phones and computers are headsets.
In addition to providing physical phones, most hosted VoIP providers also offer virtual phone software that can run on a desktop or laptop computer.
There are other software VoIP or partially VoIP services such as Zoom and Google Meet, the audio component of which is best accessed with a USB headset—not with a computer's built-in microphone and speakers.
Headsets come in all shapes and sizes. On the high end, a device such as the Poly Savi 8200 series not only has a wireless headset but the base connection can be switched among a desktop phone, a computer, and a mobile phone with the press of a button.
8. Servers
For companies that have gone "all-in" on the cloud, there may not be a single server to be found in the office.
More commonly, a few servers run in-house databases such as ERP systems, document management systems, and data marts.
Servers are also used for file sharing and as a local data backup location for individual computers. Of course, there should be an off-site component to a comprehensive data backup strategy.
9. Multi-Function Printers
A multi-function printer (MFP) is a vital office equipment item for many small businesses.
These devices print, copy and scan at high speeds and high resolutions.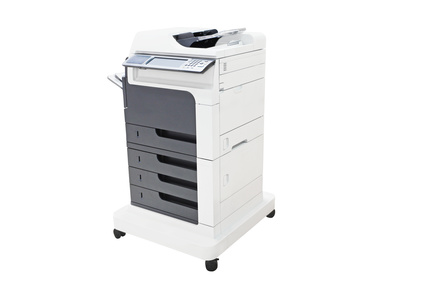 With the right type of MFP and a properly configured network, anyone can walk over to the MFP and scan documents directly to a desktop application on their computer. No need for everyone to have their own scanner.
A quality MFP is the first leg of an entire digital document management process for law firms and CPAs.
10. A Projector or a Big Screen TV
Given a choice between a projector and a big-screen TV, many businesses are selecting the latter. TVs are quiet, the image is crisper, there's no bulb to burn out, and a shadow can't be cast on the screen.
All TVs have multiple HDMI ports standard and most new projectors include an HDMI port. This means that devices such as Apple TV, Chromecast with Google TV, or Airtame can be plugged into the TV or projector. This, in turn, means that almost any device can be wirelessly connected to either a TV or a projector.
Another wireless connection option, and the one we use, is IOGEAR's Wireless HDMI Transmitter and Receiver Kit.